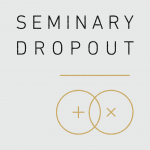 This Week on Seminary Dropout…
Aaron Niequist is a liturgist, writer, in the New York City. After leading worship at Mars Hill Church (Grand Rapids, MI) and Willow Creek Church (Barrington, IL), Aaron created A New Liturgy- a collection of modern liturgical worship recordings. Shortly after, Aaron started a discipleship-focused, formational, ecumenical, practice-based community at Willow Creek called The Practice. Since writing 'The Eternal Current: How a Practice-Based Faith Can Save Us from Drowning', he's continued to create resources to help us all flesh it out.
A call for Christians to move past the shallows of idealized beliefs and into a deeper, more vibrant, beatitude-like faith rooted in sacred practices and intimate experiences with God.
When the limits of his own faith experience left him feeling spiritually empty, Niequist determined God must have a wider vision for worship and community.
In his search, Aaron discovered that there was historical Christian precedent for enacting faith in a different way, an ancient and now future way of believing. He calls this third way "practice-based faith."
This book is about loving one's faith tradition and, at the same time, following the call to something deeper and richer. By adopting some new spiritual practices, it is possible to learn to swim again with a renewed sense of vigor and divine purpose.