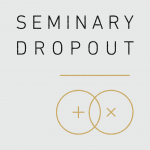 Our sponsor: Compassion International
---
Check out the new(ish) podcast OnRamp
---
This Week on Seminary Dropout…


Alan Hirsch is the founding director of Forge Mission Training Network, 100Movements, The 5Q Collective, and Future Travelers. All these are focussed on developing missional leadership and movemental organization. Known for his innovative approach to mission, Alan is considered to be a thought-leader and key mission strategist for churches across the Western world. Hirsch is the author of The Forgotten Ways; 5Q; The Shaping of Things to Come, ReJesus, and The Faith of Leap (with Michael Frost); Untamed (with Debra Hirsch); Right Here, Right Now (with Lance Ford), and On the Verge (with Dave Ferguson).
Alan is co-founder and adjunct faculty for the M.A. in Missional Church Movements at Wheaton College (Illinois). He is also adjunct professor at Fuller Seminary, George Fox Seminary, among others, and he lectures frequently throughout Australia, Europe, and the United States. He is series editor for Baker Books' Shapevine series , IVP's Forge line, and an associate editor of Leadership Journal.
His experience in leadership includes leading a local church movement among the marginalized as well as heading up the Mission and Revitalization work of his denomination. He has been on leadership team with Christian Associates, a mission agency planting churches throughout Europe. Alan is adjunct professor at Fuller Seminary and lectures frequently throughout Australia, Europe, and the U.S.
In the pages of this book, Alan Hirsch takes us on a really deep dive into the fivefold (APEST) typology of ministry as articulated in Ephesians 4:1-16, but he takes us to a depth and scope that few (if any) have ventured before. By laying out the most comprehensive model of APEST to date–one that incorporates deep theology as well as innovative practice–Hirsch once again demonstrates an almost uncanny capacity to change not only the nature and content of conversation itself, but also the scorecard on how we understand calling, church, leadership, and organization.
---
If you liked this episode then you might also like…
153: David Fitch Author of 'Faithful Presence: Seven Disciplines that Shape the Church for Mission'
115: Natasha Sistrunk Robinson "When We Measure the Church by American Standards… …We Strangle the Beauty of the Cross."
---