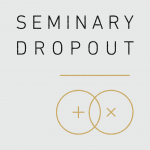 Our Sponsor:
Sponsor a Child — At Compassion we take a committed, long-term approach to fighting child poverty. Our Holistic Child Development Model is made up of four comprehensive programs investing in children from the beginning of their lives until they've reached adulthood, and covering everything from prenatal care to university-level education.
---
This Week on Seminary Dropout…

Amena Brown is an author, spoken word poet, speaker, and event host. The author of five spoken word albums and two non-fiction books, Amena performs and speaks at events from coffeehouses to arenas with a mix of poetry, humor, and storytelling. She and her husband, DJ Opdiggy, reside in Atlanta, GA.
Your soul holds a massive record collection: melodies, rhythms, and bass lines. Memories that ask you to dance and memories that haunt you in a minor key. Lies that become soundtracks to your days while truths play too softly to be heard.

Spoken word poet Amena Brown's broken records played messages about how she wasn't worthy to be loved. How to Fix a Broken Record chronicles her journey of healing as she's allowed the music of God's love to replace the scratchy taunts of her past. From bad dates to marriage lessons at Waffle House, from learning to love her hair to learning to love an unexpected season of life, from discovering the power of saying no and the freedom to say yes, Amena offers keep-it-real stories your soul can relate to.

The hurtful words of others and the failures of your past often determine what record you play the most in your mind. Those painful repetitions can become loud at the most inopportune time, keeping you from speaking up, pursuing your dreams, and growing closer to God.

Recognize the negative messages that play on repeat every day in your mind. Learn how to replace them with the truth that you are a beloved child of God. And discover how to laugh along the way as you find new joy in the beautiful music of your life.

-From the Publisher
---
If you liked this episode then you might also like…
Seminary Dropout 100: Jo Saxton on Post-Christendom, Discipleship, and Being a Woman of Color in Church Leadership
132: Jonathan Martin, Author of "How to Survive a Shipwreck: Help Is on the Way and Love Is Already Here"
---