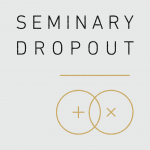 Our Sponsor: Compassion International
Sponsor a Child — At Compassion we take a committed, long-term approach to fighting child poverty. Our Holistic Child Development Model is made up of four comprehensive programs investing in children from the beginning of their lives until they've reached adulthood, and covering everything from prenatal care to university-level education.
---
This Week on Seminary Dropout…

Bonnie Kristian is a theological and political writer with a national following. She has columns and bylines at publications including The Week, Rare, Time Magazine, CNN, Relevant Magazine, Politico, The Hill, and The American Conservative. Bonnie is active in teaching roles in her church, a Mennonite community where she leads a study group and speaks regularly at Sunday services. She graduated from Bethel Seminary with a Master of Arts in Christian Thought, a theological studies degree with special emphasis on engaging culture with the gospel. Bonnie lives with her husband, two dogs, and two guinea pigs in Saint Paul, Minnesota. She keeps busy running, gardening, and fixing up her 100-year-old house.
It is all too easy to fail to grasp the diversity of the Christian faith-especially for those who have grown up in one branch of the church and never explored another. We fail to realize how many ways there are to follow Jesus, convinced that our own tradition is the one Christian alternative to nonbelief.

A FLEXIBLE FAITH

 is written for the convinced and confused believer alike. It is a readable exploration of the lively theological diversity that stretches back through church history and across the spectrum of Christianity today. It is an easy introduction to how Christians have historically answered key questions about what it means to follow Jesus. Chapters will include 17 big theological questions and answers; profiles of relevant figures in church history; discussion questions; single-page Q&As-profiles of more unusual types of Christians (e.g., a Catholic nun or a member of an Amish community); and a guide to major Christian denominations today.

As Bonnie shares her wrestlings with core issues-such as who Jesus is, what place the Church has in our lives, how to disagree yet remain within a community, and how to love the Bible for what it actually is-she teaches us how to walk courageously through our own tough questions.

Following Jesus is big and it is something that individual believers, movements, and denominations have expressed in uncountably different ways over the centuries. In the process of helping us sort things out, Bonnie shows us how to be comfortable with diversity in the Body. And as we learn to hold questions in one hand and answers in the other, we will discover new depths of faith that will remain secure even through the storms of life.
-From the Publisher
---