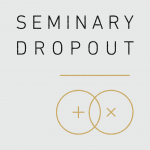 Our Sponsor:
Sponsor a Child — At Compassion we take a committed, long-term approach to fighting child poverty. Our Holistic Child Development Model is made up of four comprehensive programs investing in children from the beginning of their lives until they've reached adulthood, and covering everything from prenatal care to university-level education.
---
This Week on Seminary Dropout…

Christopher A. Hall (PhD, Drew University) is the president of Renovaré Institute of Christian Spiritual Formation. He is associate editor of the Ancient Christian Commentary on Scripture, and his books include Reading Scripture with the Church Fathers, Learning Theology with the Church Fathers, and Worshiping with the Church Fathers. Hall previously served at Eastern University for over twenty years in several roles, including chancellor, provost, dean of Palmer Seminary, dean of the Templeton Honors College, distinguished professor of theology, and director of academic spiritual formation. He and his wife, Debbie, live in Pennsylvania and have three grown children.
The first centuries of Christianity are like a far country. But despite their foreignness, they hold a treasury of wisdom for living. Early Christians struggled and flourished in a culture that was in love with empire and military power, infatuated with sex and entertainment, tolerant of all gods but hostile to the One. And from this crucible of discipleship they extracted lessons of virtue, faithfulness, and joy in Christ. Christopher Hall takes us to this distant time, where he interviews Christian leaders around the ancient Mediterranean world, inquiring how to live a good life as a Christ follower. The menu of topics wends its way through wealth and poverty, war and violence, marriage and sexuality, theater and the arena, as well as the harsh realities of persecution and martyrdom. Gathering around Basil or Chrysostom or Augustine, we are instructed anew in the way of discipleship. And as they grapple with issues surprisingly resonant with our own, this cloud of ancient witnesses both surprises and challenges us in the life of faith. -From the Publisher
---
If you liked this episode then you might also like…
136: Gerald McDermott, Author of "The Great Theologians, A Brief Guide"
140: Frank James, Logos Video Course: "Introducing Church History"
---