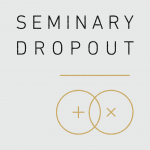 This week on Seminary Dropout…
Chris Rice has helped give birth to pioneering initiatives to renew Christian life and mission and to address social division in the U.S., East Africa, and Northeast Asia. His three award-winning books are Reconciling All Things (co-authored with Emmanuel Katongole), the memoir Grace Matters, and More Than Equals: Racial Healing for the Sake of the Gospel (co-authored with Spencer Perkins). His writing has appeared in Sojourners, Christianity Today, and the Christian Century.
Chris currently serves as Director of the Mennonite Central Committee United Nations Office in New York City.
Follow Chris on his blog at reconcilers.wordpress.com.
Chris' books mentioned in this episode: