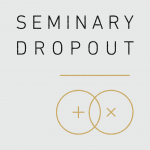 *Originally Posted at MissioAlliance.org
Our Sponsor:
Sponsor a Child — At Compassion we take a committed, long-term approach to fighting child poverty. Our Holistic Child Development Model is made up of four comprehensive programs investing in children from the beginning of their lives until they've reached adulthood, and covering everything from prenatal care to university-level education.
---
Thanks to all who gave to make Seminary Dropout in 2018 possible!
---
Be sure register to attend the Rethinking Hell Conference, March 9-10. I'd love to see you there.
---
This Week on Seminary Dropout…

Curt Thompson, M.D., is a psychiatrist in private practice in Falls Church, Virginia and founder of Being Known, which develops teaching programs, seminars and resource materials to help people explore the connection between interpersonal neurobiology and Christian spirituality which lead to genuine change and transformation.
He and his wife, Phyllis, are the parents of two children and reside in Arlington, Virginia. He serves as an elder at Washington Community Fellowship in Washington, D.C. His duties there have included preaching, teaching, and participation in the fellowship's healing prayer ministry. He and his wife (a licensed clinical social worker) frequently provide premarital counseling services for couples in their congregation.
Do you want to improve your relationships and experience lasting personal change? Join Curt Thompson, M.D., on an amazing journey to discover the surprising pathways for transformation hidden inside your own mind. Integrating new findings in neuroscience and attachment with Christian spirituality, Dr. Thompson reveals how it is possible to rewire your mind, altering your brain patterns and literally making you more like the person God intended you to be. Explaining discoveries about the brain in layman's terms, he shows how you can be mentally transformed through spiritual practices, interaction with Scripture, and connections with other people. He also provides practical exercises to help you experience healing in areas where you've been struggling. Insightful and challenging, Anatomy of the Soul illustrates how learning about one of God's most miraculous creations―your brain―can enrich your life, your relationships, and your impact on the world around you. -From the Publisher
---
If you liked this episode then you might also like…
143: Mike McHargue aka "Science Mike", Author of "Finding God In The Waves"
Seminary Dropout 52: James Bryan Smith, Author of The Apprentice Series
---