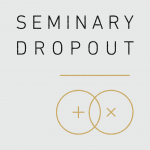 Our Sponsor:
Sponsor a Child — At Compassion we take a committed, long-term approach to fighting child poverty. Our Holistic Child Development Model is made up of four comprehensive programs investing in children from the beginning of their lives until they've reached adulthood, and covering everything from prenatal care to university-level education.
---
This Week on Seminary Dropout…

Daniel Hill is the founding and senior pastor of River City Community Church, a vibrant, multiethnic church in the Humboldt Park neighborhood of Chicago. He is the author of 10:10: Life to the Fullest. Prior to starting River City, Daniel worked in the business world before serving five years on the staff of Willow Creek Community Church in the Chicago suburbs. He has a business degree from Purdue University, an MA in theology from Moody Bible Institute, a certificate in church-based community and economic development from Harvard Divinity School, and a DMin from Northern Baptist Theological Seminary. He is married to Elizabeth, who is a professor of psychology, and they are the proud parents of two children.
Daniel Hill will never forget the day he heard these words: "Daniel, you may be white, but don't let that lull you into thinking you have no culture. White culture is very real. In fact, when white culture comes in contact with other cultures, it almost always wins. So it would be a really good idea for you to learn about your culture." Confused and unsettled by this encounter, Hill began a journey of understanding his own white identity. Today he is an active participant in addressing and confronting racial and systemic injustices. And in this compelling and timely book, he shows you the seven stages to expect on your own path to cultural awakening. It's crucial to understand both personal and social realities in the areas of race, culture, and identity. This book will give you a new perspective on being white and also empower you to be an agent of reconciliation in our increasingly diverse and divided world. -From the Publisher
---
If you liked this episode then you might also like…
167 – Ken Wytsma, Author of 'The Myth of Equality: Uncovering the Roots of Injustice and Privilege'
Seminary Dropout 117: Drew Hart, Author of "Trouble I've Seen: Changing the Way the Church Views Racism"
---