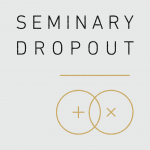 Our sponsor: Compassion International
---
Check out the new(ish) podcast OnRamp
---
This Week on Seminary Dropout…
Efrem Smith's personal and professional story paints a compelling picture of an urban church leader of deep faith who has managed leaders and budgets, transforming people and ministry wherever he has served. His track record in leading Christian Community Development efforts, serving as a Pastor, Church Planter and leader of the Pacific Southwest Conference of the Evangelical Covenant Church, have prepared him for this moment. Throughout his career, Efrem has had a passion for the urban poor, theological education, and training indigenous leaders for service in the Kingdom.
As a preacher, motivational speaker, and author, Efrem Smith is internationally recognized for his passion to see lasting life transformations, communities revitalized to reach the marginalized, and further Kingdom advancement within our churches.
Serving as founding pastor of The Sanctuary Covenant Church, a multi-ethnic church in Minneapolis, MN, Efrem also co-founded and was President for The Sanctuary Community Development Corporation.  In his previous role, Efrem was the Superintendent of the Pacific Southwest Conference of the Evangelical Covenant Church, providing leadership to 160 churches within California, Arizona, Nevada, Hawaii, and Utah.
As an itinerant speaker and preacher with Kingdom Building Ministries and the Evangelical Covenant Church, he has been a keynote speaker for such events as Athletes in Action, Campus Crusade for Christ, Youth Specialties, Compassion International, Thrive and CHIC. He is the author of Raising Up Young Heroes, The Hip Hop Church, and Jump. Efrem's latest book, The Post-Black and Post-White Church, was released in August of 2012.
Efrem is a graduate of Saint John's University and Luther Theological Seminary.  He is currently seeking his doctorate in Church Leadership from Bethel Seminary in Minneapolis, MN.  He and his wife Donecia, along with their two children, Jeada and Mireya, live in the San Francisco Bay Area. Efrem has received many awards such as the Role Model Award from the Hennepin County Community Coalition and the Community Service Award from Saint John's University.
The Christian life is actually a kind of death. We die to ourselves, take up our cross, and follow Jesus. Dying in Christ, however, is an opportunity—to experience the comforting presence of the Holy Spirit as we spread the Good News of a God who loves us enough to save us and remake us in his image.

Efrem Smith helps us see that Christian discipleship is a counterintuitive life. In a world turned upside down by sin, God carefully and lovingly strips us of worldly values and turns us right-side up as good citizens and ambassadors of his Kingdom. -From the Publisher
---
If you liked this episode then you might also like…
Seminary Dropout 41: Bruxy Cavey
147: N.T. Wright Talks about The Day the Revolution Began
---