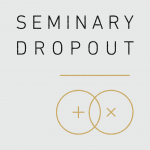 Our Sponsor:
Sponsor a Child — At Compassion we take a committed, long-term approach to fighting child poverty. Our Holistic Child Development Model is made up of four comprehensive programs investing in children from the beginning of their lives until they've reached adulthood, and covering everything from prenatal care to university-level education.
---
This Week on Seminary Dropout…

John Mark McMillan is something of an anomaly: an artist and Platinum-selling songwriter bending genres and defying categorization by carving out his own unique and independent path. With an ear for melody and a poet's eye for metaphor, no topic has been off-limits. While each of his albums over the past decade have continued to explore new territory, it's McMillan's ability to give lyric and language to the human experience that many consider his greatest gift.
Mercury & Lightning reminds us why we love great songwriters; The exceptional ones find a way to put new words to private musings and desperate feelings until the songs themselves begin to live in our bones.

The vibe and tone from each song on Mercury & Lightning will mesmerize, but it's McMillan's voice that draws you in and makes you feel as though you've entered a conversation you want to stick around for. Recorded just outside of Portland, OR at Feng Sway Studios over 18 months with close friend Gabriel Wilson and longtime bandmate Jesse Proctor, this is the kind of record that your kid usually discovers before you do – something progressive yet accessible. Borrowing from their childhood influences, they bring elements of 80's rock and 90's R&B together, somehow making the record feel both modern and unexpected.

-From johnmarkmcmillan.com
---
If you liked this episode then you might also like…
Seminary Dropout 94: John Mark McMillan on Making Money as a Christian Artist & More
Seminary Dropout 51: Michael Gungor Talks Creation, Music, & Art.
---