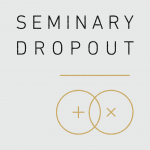 Our Sponsor:
Sponsor a Child — At Compassion we take a committed, long-term approach to fighting child poverty. Our Holistic Child Development Model is made up of four comprehensive programs investing in children from the beginning of their lives until they've reached adulthood, and covering everything from prenatal care to university-level education.
---
This Week on Seminary Dropout…

Jo Saxton is a pastor, a church-planter, an author, and a speaker who travels the globe to address leadership organizations, children's conferences, women's events, and Christian festivals. She also serves on the advisory board for Today's Christian Woman, co-hosts the Lead Stories podcast, and spends much of her time mentoring and training leaders through 3DMovements, an international discipleship operation. She lives with her husband and their two daughters near Minneapolis.
Let's be honest, the life you lead isn't what you've always dreamt. And maybe the person you've become isn't who you've always imagined. Sure, you can clean it up. You can work longer, love harder, and eat better. You can scrub the surface of your life until it gleams and still never address the fact that somehow you lost sight of who you really are and what you're living for.

Is this the life you were meant to live?

As the child of Nigerian immigrants in the UK, author and speaker Jo Saxton knows firsthand how quickly the world can cause us to doubt our dreams and question who we are. She understands how easily we can exchange our true child-of-God selves for an identity built on lies, guilt, and brokenness.
In this powerful book, Jo examines Biblical figures and shares her personal story as she invites you to turn to the One who knows you intimately and loves you deeply. He sees all you've struggled to hide. He hears the voice inside you that others have silenced. He knows the potential and purpose that no one valued. He longs to redeem the story of your life and set you on the path to reclaim The Dream of You.Are you ready?

-From the Publisher

From the show…
"I've seen how often women can edit their callings in the presence of guys, even if they know those guys are for them…"
---
If you liked this episode then you might also like…
Seminary Dropout 179 – Amena Brown, Author of "How to Fix a Broken Record" on Poetry, Marriage, and Princesses
Seminary Dropout 177 – Tara Beth Leach, Author of Emboldened: A Vision for Empowering Women in Ministry
---