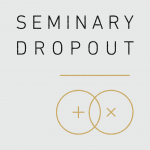 *Originally Posted at MissioAlliance.org
Our Sponsor: 
Sponsor a Child — At Compassion we take a committed, long-term approach to fighting child poverty. Our Holistic Child Development Model is made up of four comprehensive programs investing in children from the beginning of their lives until they've reached adulthood, and covering everything from prenatal care to university-level education.
---
This Week on Seminary Dropout…

Kelley Nikondeha is codirector and chief storyteller for Communities of Hope, a community development enterprise in Burundi, and cofounder of Amahoro Africa, an ongoing conversation between theologians and practitioners within the African context.
In this compellingly readable book Kelley Nikondeha—adoptive mother and adopted child herself—thoughtfully explores the Christian concept of adoption. Her story and her biblically grounded reflections will give readers rich new insights into the mystery of belonging to God's big family. -From the Publisher
---
If you liked this episode then you might also like…
168 – Jared Patrick Boyd, Author of "Imaginative Prayer: A Yearlong Guide For Your Child's Spiritual Formation"
5 Lessons Learned through Foster Care to Adoption
---