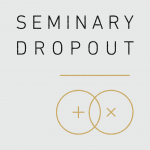 Sponsors: 
Arizona indie rock band WILD EARTH have just released their brand new full-length album HOLY FOOLS on August 11th. This sophomore album aims to unite pop, experimental alt-rock sounds with spiritual formation in Christ. Listen to the wild, vulnerable and contemplative journey of HOLY FOOLS, online now on your favorite digital streaming like iTunes, Apple Music, Spotify or visit http://wildearthmusic.com 

Sponsor a Child — At Compassion we take a committed, long-term approach to fighting child poverty. Our Holistic Child Development Model is made up of four comprehensive programs investing in children from the beginning of their lives until they've reached adulthood, and covering everything from prenatal care to university-level education.
---
If you like Seminary Dropout, be sure to check out OnRamp.
---
This Week on Seminary Dropout…

Ken Wytsma is a leader, innovator, and social entrepreneur. He is the president of Kilns College, where he teaches courses on philosophy and justice. He is the founder of The Justice Conference–a yearly international conference that exposes men and women to a wide range of organizations and conversations relating to justice and the biblical call to give our lives away. Ken is also a church planter and the lead pastor at Antioch Church. He and his wife, Tamara, have four daughters and live in Bend, Oregon.

It's clear that issues of race and equality have come to the forefront in our nation's consciousness. Every week yet another incident involving racial tension splashes across headlines and dominates our news feeds. But it's not easy to unpack the origins of these tensions, and perhaps we wonder whether any of these issues really has anything to do with us.

Ken Wytsma, founder of the Justice Conference, understands these questions. He has gone through his own journey of understanding the underpinnings of inequality and privilege. In this timely, insightful book Wytsma unpacks what we need to know to be grounded in conversations about today's race-related issues. And he helps us come to a deeper understanding of both the origins of these issues and the reconciling role we are called to play as ministers of the gospel.

Inequality and privilege are real. The Myth of Equality opens our eyes to realities we may have never realized were present in our society and world. And we will be changed for the better as a result. -From the Publisher
---
If you liked this episode then you might also like…
159 – Efrem Smith, Author of "Killing Us Softly: Reborn in the Upside-Down Image of God"
---