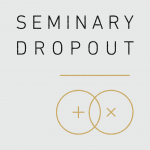 Dr. Kyuboem "Kyu" Lee was born in Seoul, South Korea and raised in Nairobi, Kenya. He was educated in evangelical and reformed institutions in the US. He has lived, church planted, and ministered cross-culturally in Philadelphia since 1993. He has also taught urban mission at the graduate level since 2006, has edited the Journal of Urban Mission since 2010, and serves as a leading voice with Missio Alliance. Kyuboem is married to Christe and is the father of two sons, Amoz and Theo.
You can follow Kyuboem on Twitter, @kyuboem.
In this episode, Kyu and Shane talk all things seminary – from the challenges Christian higher-ed currently faces, to its importance for the local Church… and not shying away from the irony of appearing on a podcast hosted by someone who dropped out of seminary.