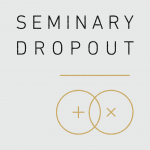 Leonard I. Sweet is an American theologian, semiotician, church historian, pastor, and author. Sweet currently serves as the E. Stanley Jones Professor of Evangelism at Drew Theological School at Drew University, in Madison, New Jersey; and a Visiting Distinguished Professor at George Fox University in Portland, Oregon. Sweet is ordained in the United Methodist denomination.
Check out Leonards website here.

The Bad Habits of Jesus: Showing Us the Way to Live Right in a World Gone Wrong
Did Jesus have bad habits?
In our culture, we have a tendency to describe Jesus in ways that soften his revolutionary edge. Len Sweet uncovers and presents to us the offensive and scandalous Jesus described in the Bible.

Did he disappear when people needed him most? Yes.
Did he refuse to answer questions directly? Yes.
Did Jesus offend the people of his day? Absolutely, yes.

Popular author and speaker Len Sweet examines the words and actions of Jesus and places them in context. We need to understand who Jesus really is if we are to follow him wholeheartedly. That is why it is so crucial to see the "rebellious rabbi" for who he is and not for who we may imagine him to be.

The Bad Habits of Jesus will help you see the untamed Jesus, who isn't sanitized for our culture. That Jesus just might transform how you live out your life. -From the Publisher
---
Our Sponsor:
Intervarsity Press has an exclusive for Seminary Dropout listeners. Go to ivpress.com/dropout to get 30% off The Road Back To You.
---
If you liked this episode then you might also like…
146: N.T. Wright Talks about The Day the Revolution Began
Mike McHargue aka "Science Mike", Author of "Finding God In The Waves"
---