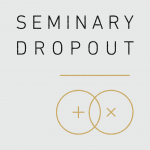 Our sponsor: Compassion International
---
If you like Seminary Dropout, be sure to check out OnRamp.
---
This Week on Seminary Dropout…

Mary DeMuth is a writer and speaker who loves to help people live re-storied lives. Author of more than 30 books, including parenting books, Southern fiction, and a memoir entitled Thin Places, Mary speaks around the country and the world. She is the wife of Patrick and the mom of three adult children.
Restore your past. See your past in light of God's healing. (Find practical ways to truly find the healing you've been longing for).
Realize your worth. Understand that you are worth loving, and your life is worth living. (Uncover the lies that undermine your worth and be set free by God's beautiful truth about your worth).
Reframe your relationships. Deal with bitterness, unforgiveness, and heartache. (Learn how to live with joy despite the decisions of others.)
Restory your future. Discover the "So what" to your story. (Now that God has restored you, you understand your worth, and you have a healthy perspective on your relationships, learn how will God use your story to change the world.)
---
If you liked this episode then you might also like…
7154 – Jamin Goggin & Kyle Strobel on the Church's Problems with Power
144: Ann Voskamp on her new book "The Broken Way: A Daring Path Into the Abundant Life"
---