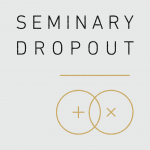 This Week on Seminary Dropout…
Matthew W. Bates (Ph.D., University of Notre Dame) is Assistant Professor of Theology at Quincy University. His main teaching area is the Bible and early Christian literature, especially the New Testament. He also teaches courses in Western Religion, Church History, and Christian Spirituality.
Dr. Bates writes with a posture of faith seeking understanding, with a desire to serve the church, academy, and any reader of goodwill. A new book, Salvation by Allegiance Alone (Baker Academic, 2017) is now available for order. His recent The Birth of the Trinity (Oxford University Press, 2015) focuses on how certain reading strategies helped early Christians to see that the one God can be differentiated as multiple persons. He has also written on the Apostle Paul's method of interpreting Scripture: The Hermeneutics of the Apostolic Proclamation (Baylor University Press, 2012). A current book project, to be published by Eerdmans, explores the process by which Jesus came to be enthroned as king, as well as the theological implications for us today.
Dr. Bates co-hosts a popular podcast on biblical studies called OnScript. The podcast focuses on interviewing authors in the field of biblical studies about their recent books. He has hosted some of the most renowned biblical scholars in the world.
We are saved by faith when we trust that Jesus died for our sins. This is the gospel, or so we are taught. But what is faith? And does this accurately summarize the gospel? Because faith is frequently misunderstood and the climax of the gospel misidentified, the gospel's full power remains untapped. While offering a fresh proposal for what faith means within a biblical theology of salvation, Matthew Bates presses the church toward a new precision: we are saved solely by allegiance to Jesus the king. Instead of faith alone, Christians must speak about salvation by allegiance alone. -From the Publisher