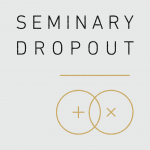 Mike McHargue (better known as Science Mike) is the best-selling author of Finding God in the Waves, host of Ask Science Mike and co-host of The Liturgists Podcast. He's a leading voice on matters of science and religion with a monthly reach in the hundreds of thousands. Among other outlets, Mike has written for RELEVANT, Don Miller's Storyline, BioLogos, and The Washington Post.
Mike loves sharing ideas in person, and is an in-demand speaker at conferences, churches, and colleges. He's recently spoken to sold-out crowds in New York about the science of addiction, explained the science of storytelling at Storyline in Chicago, and shown people how Christianity can embrace the modern world at Belong in London.
Mike lives in Tallahassee, FL with is wife Jenny and two daughters.
What do you do when God dies? It's a question facing millions today, as science reveals a Universe that's self-creating, as American culture departs from Christian social norms, and the idea of God begins to seem implausible at best and barbaric at worst.

Mike McHargue understands the pain of unraveling belief. In Finding God in the Waves, Mike tells the story of how his Evangelical faith dissolved into atheism as he studied the Bible, a crisis that threatened his identity, his friendships, and even his marriage. Years later, Mike was standing on the shores of the Pacific Ocean when a bewildering, seemingly mystical moment motivated him to take another look. But this time, it wasn't theology or scripture that led him back to God—it was science.

In Finding God in the Waves, "Science Mike" draws on his personal experience to tell the unlikely story of how science led him back to faith. Among other revelations, we learn what brain scans reveal about what happens when we pray; how fundamentalism affects the psyche; and how God is revealed not only in scripture, but in the night sky, in subatomic particles, and in us.

For the faithful and skeptic alike, Finding God in the Waves is a winsome, lucid, page-turning read about belonging, life's biggest questions, and the hope of knowing God in an age of science.

                                                                                                     -From The Publisher
---
Our Sponsor:
Intervarsity Press has an exclusive for Seminary Dropout listeners. Go to ivpress.com/dropout to get 30% off The Church As Movement!
---
If you liked this episode then you might also like…
Seminary Dropout 83: Rachel Held Evans, Author of "Searching For Sunday"
Seminary Dropout 123: AJ Swoboda, on Wandering, Doubt, and Hope
---
*links to guest books or other products are affiliate links