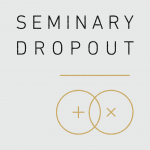 This Week on Seminary Dropout…
LIVE from the Christian Community Development Association in Dallas, Texas!
Noemi Vega Quiñones leads as the South Texas area ministry director for InterVarsity Christian Fellowship. She moved with her family from Mexico to the United States when she was five and grew up in the central coast of California. She has been an adjunct professor at Fresno Pacific University Biblical Seminary and has written for The Well and The High Calling.
God calls Latinas to lives of influence. He created his Latina daughters to partner with him, live into the incredible plans he has for each of us, and walk in his grace and strength to help change this world. But many of us have heard cultural messages that make us doubt our adequacy. We have not seen many Latina women in positions of leadership, and we need more mentors and role models. Natalia Kohn, Noemi Vega Quiñones, and Kristy Garza Robinson share their own journeys as Latinas and leaders. They find mentorship in twelve inspirational women of the Bible including Esther, Rahab, Mary, and Lydia, who navigated challenges of brokenness and suffering, being bicultural, and crossing borders. As we deepen our spiritual and ethnic identities, we grow in intimacy with God and others and become better equipped to influence others for the kingdom. The insights here will help any who seek to empower Latinas in leadership. You are not alone on this journey. Join your sisters and partner with our heavenly Father as you become the Latina leader God has called you to be.

-From the Publisher