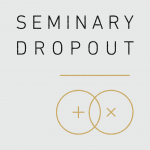 Subscribe: iTunes | Android | RSS
Dr. Shawn Duncan is the Director of Training and Education for Focused Community Strategies (FCS), a Christian community development organization that has been partnering with distressed urban neighborhoods in Atlanta for the last 40 years. He is also the Co-Founder of EIRO (pronounced "i row"), which serves as a catalyst for local churches eager to participate more fully in the mission of God in their local context.
Charity Detox: What Charity Would Look Like If We Cared About Results

Toxic Charity: How Churches and Charities Hurt Those They Help, And How to Reverse It
Focused Community Strategies
EIRO
Contact Shawn at shawn@fcsministries.org
---
Interested in advertising on Seminary Dropout? For rates and information contact me at shane@shaneblackshear.com
If you liked this episode then you might also like…
Seminary Dropout 35: How to Alleviate Poverty Without Hurting the Poor & Yourself – Brian Fikkert
Seminary Dropout 75: Leroy Barber, Author of Red, Brown, Yellow, Black, White—Who's More Precious In God's Sight?
---
*links to guest books or other products are affiliate links