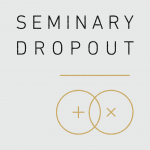 Suzanne is a graduate of Cornerstone University and Grace Theological Seminary and serves part-time as discipleship pastor at Three Rivers Wesleyan Church. She writes and speaks on living in the Kingdom of God as a joyful, right-now reality. Suzanne co-authored "Reclaiming Eve: The Identity and Calling of Women in the Kingdom of God".
Inferior. Second-best. Marginalized. Every daughter of Eve faces an identity crisis at some time in her life. And many wonder where they fit in on a regular basis. Authors Suzanne Burden, Carla Sunberg and Jamie Wright set out to discover what the Bible says about every woman's identity. What they uncovered is a scriptural blueprint for both women and men that sets them free to serve Christ together as full partners in building God's kingdom. -From the Publisher
Find Suzanne at: suzanneburden.com
---
Our Sponsor:
Intervarsity Press has an exclusive for Seminary Dropout listeners. Go to ivpress.com/dropout to get 30% off Slow Kingdom!
---
If you liked this episode then you might also like…
Seminary Dropout 99: Jackie Roese on Reshaping Our View of Women in the Church
Seminary Dropout 025 Sarah Bessey
---
*links to guest books or other products are affiliate links