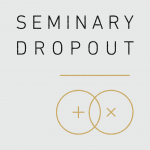 Our Sponsor:
Sponsor a Child — At Compassion we take a committed, long-term approach to fighting child poverty. Our Holistic Child Development Model is made up of four comprehensive programs investing in children from the beginning of their lives until they've reached adulthood, and covering everything from prenatal care to university-level education.
---
This Week on Seminary Dropout…
Tara Beth Leach on Women using their gifts in the church:
"I think it's important that we frame it that way (giftedness instead of justice) because to me it's more mission critical and it is about justice, but it's not merely justice, it's not the only thing here, it's mission critical, we need all hands on deck participating in the mission of God. We need men and women arm in arm. Something I often say is, especially in this post-christian context, we need more Christians than ever that take their gifts and calling seriously, with boots on the ground and in their neighborhoods, or high heels on the ground behind the pulpit, whatever that means we need men and women to embrace the power of pentecost; that is men and women using their gifts to participate in the kingdom of God."
Listen to the episode to hear the rest!
Tara Beth Leach is senior pastor of First Church of the Nazarene of Pasadena in Southern California. She is a graduate of Olivet Nazarene University (BA, youth ministry) and Northern Theological Seminary (MDiv). She is a regular writer for Missio Alliance and has contributed to other publications such as Christianity Today, Christian Week, The Jesus Creed, The Table Magazine, Reflecting the Image Devotional, Renovating Holiness, and most recently a chapter in The Apostle Paul and the Christian Life. She has two beautiful and rambunctious sons, and has been married to the love of her life, Jeff, since 2006.

Throughout Scripture and church history, women have been central to the mission of God. But all too often, women have lacked opportunities to minister fully. Many churches lack visible examples of women in ministry and leadership.

Tara Beth Leach, senior pastor of her denomination's flagship church, issues a stirring call for a new generation of women in ministry: to teach, to preach, to shepherd, and to lead. God not only permits women to minister; he emboldens, empowers, and unleashes women to lead out of the fullness of who they are. The church cannot reach its full potential without women using their God-given gifts. Leach provides practical expertise for how women can find their place at the table, escape imposter syndrome, face opposition, mentor others and much more.

Women who read this book will be inspired to use their gifts to edify the body of Christ and advance the kingdom of God. Men who read it will be inspired to embolden the women in their midst. When women teach, preach, lead, evangelize, pastor, and disciple, the church's imagination expands to better reflect God's story and hope for the world. -From the Publisher
---
If you liked this episode then you might also like…
Seminary Dropout 171 – Mandy Smith, Author of 'The Vulnerable Pastor' and Director of SheLeads 2017
Seminary Dropout 157- Tish Harrison Warren & Jonathan Warren: A Biblical, Historical, and Pastoral Defense of Women in Ministry
---