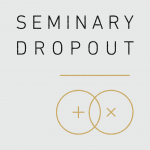 Our Sponsor:
Sponsor a Child — At Compassion we take a committed, long-term approach to fighting child poverty. Our Holistic Child Development Model is made up of four comprehensive programs investing in children from the beginning of their lives until they've reached adulthood, and covering everything from prenatal care to university-level education.
---
This Week on Seminary Dropout…

The Welcome Wagon is a married couple, the Reverend Thomas Vito Aiuto and his wife Monique, who execute a genre of gospel music that is refreshingly plain. Their hymns are modest and melodic takes on a vast history of sacred song traditions, delivered with the simple desire to know their Maker—and to know each other—more intimately.
Light Up The Stairs, continues The Welcome Wagon's tradition of sacred material, while adding more songs that incorporate original lyrics. The album is an urgent, lively endeavor, largely made so by the work of producer Jeremy McDonald.
---
If you liked this episode then you might also like…
Seminary Dropout 112: Sara Groves on Depression, and Her New Album FLOODPLAIN
Seminary Dropout 97: Jon Foreman on His Solo work, Switchfoot, and Fatherhood
---