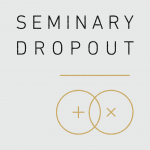 Our sponsor: Compassion International
---
Check out the new(ish) podcast OnRamp
---
This Week on Seminary Dropout…

Tsh Oxenreider is the founder and main voice of The Art of Simple, a community site that celebrates living slow with passion, and is the host of the top-ranked podcast The Simple Show. She's the author of At Home in the World, Notes from a Blue Bike, One Bite at a Time, and Organized Simplicity, and she thinks a library card, a Netflix subscription, and a passport are some of the greatest parenting tools in the universe.
Tsh and her vagabonding family once traveled around the world for a school year, and they love exploring new cultures together. They currently live in Central Texas, near Austin, but several dots around the globe have also been called home (and she dreams of one day living in Stars Hollow). Together, they love to travel, read books, go camping, and make homemade pizza for family movie night.
Her passion—besides writing, of course—is to create space in life for the stuff that matters, to make globally-minded choices, and to live unconventionally—and then help others do the same. She also loves coffee and hates wearing socks.
Tsh's writing has been featured in Real Simple magazine, CNN, Washington Post, CNBC, and more, and has been mentioned on Apartment Therapy, HGTV, Better Homes and Gardens, Food Network, NPR, Parents magazine, and more.
The wide world is calling.

Americans Tsh and Kyle met and married in Kosovo. They lived as expats for most of a decade. They've been back in the States—now with three kids under ten—for four years, and while home is nice, they are filled with wanderlust and long to answer the call.

Why not? The kids are all old enough to carry their own backpacks but still young enough to be uprooted, so a trip—a nine-months-long trip—is planned.

At Home in the World follows their journey from China to New Zealand, Ethiopia to England, and more. They traverse bumpy roads, stand in awe before a waterfall that feels like the edge of the earth, and chase each other through three-foot-wide passageways in Venice. And all the while Tsh grapples with the concept of home, as she learns what it means to be lost—yet at home—in the world. -From the Publisher
Find Tsh:
• Blog: theartofsimple.net
• Podcast: thesimpleshow.com
• Twitter: @tsh
• Facebook: theartofsimple
• Instagram: tshoxenreider


---
If you liked this episode then you might also like…
156 – Traveling to Sri Lanka with Compassion International
155 – Esther Emery: What Happens When You Give Up the Internet For a Year
---