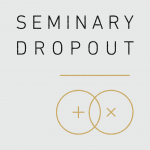 David E. Fitch (PhD, Northwestern University) is the B. R. Lindner Chair of Evangelical Theology at Northern Seminary. He is also the founding pastor of Life on the Vine Christian Community, a missional church in the northwest suburbs of Chicago. He is the author of The Great Giveaway and The End of Evangelicalism? and is the coauthor of Prodigal Christianity. Fitch coaches a network of church plants in the Christian and Missionary Alliance and he writes, speaks, and lectures on issues the local church must face in mission including cultural engagement, leadership and theology. He has also written numerous articles in periodicals such as Christianity Today, The Other Journal, Missiology as well as various academic journals.
To enter to win a copy of Faithful Presense sign up for my email list at ShaneBlackshear.com (right hand side).
---
Thank you all for a great 2016! This is the last episode of Seminary Dropout for the year. Stay tuned to hear more about the "secret project" coming in December.
---
If you liked this episode then you might also like…
Seminary Dropout 126: Nijay Gupta on Bridging the Gap Between Seminary and the Church Pew
Seminary Dropout 115: Natasha Sistrunk Robinson "When We Measure the Church by American Standards… …We Strangle the Beauty of the Cross."
---