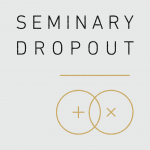 This week on Seminary Dropout…
A. J. Swoboda (PhD, University of Birmingham) is assistant professor of Bible, theology, and world Christianity at Bushnell University in Eugene, Oregon, and leads a Doctor of Ministry cohort on the Holy Spirit and leadership at Fuller Theological Seminary. He is the author or editor of numerous books, including Subversive Sabbath, winner of a Christianity Today Book Award (Spiritual Formation) and an Award of Merit for CT's Beautiful Orthodoxy Book of the Year. He speaks regularly at conferences, churches, camps, and retreats. Swoboda served for ten years as the lead pastor at Theophilus Church in urban Portland, is the founder and former director of Blessed Earth Northwest, and served as executive director of the Seminary Stewardship Alliance.
Check out his new podcast with previous Seminary Dropout guest Nijay Gupta, called In Faith and Doubt.
Follow A.J. on his website and on twitter.
Is there a way to walk faithfully through doubt and come out the other side with a deeper love for Jesus, the church, and its tradition? Can we question our faith without losing it?
Award-winning author, pastor, and professor A. J. Swoboda has witnessed many young people wrestle with their core Christian beliefs. Too often, what begins as a set of critical and important questions turns to resentment and faith abandonment. Unfortunately, the church has largely ignored its task of serving people along their journey of questioning. The local church must walk alongside those who are deconstructing their faith and show them how to reconstruct it.
Drawing on his own experience of deconstruction, Swoboda offers tools to help emerging adults navigate their faith in a hostile landscape. Doubt is a part of our natural spiritual journey, says Swoboda, and deconstruction is a legitimate space to encounter the living God.
After Doubt offers a hopeful, practical vision of spiritual formation for those in the process of faith deconstruction and those who serve them. Foreword by pastor and author John Mark Comer. -From the Publisher