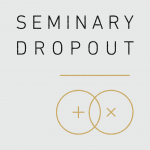 Our Sponsor:
Sponsor a Child — At Compassion we take a committed, long-term approach to fighting child poverty. Our Holistic Child Development Model is made up of four comprehensive programs investing in children from the beginning of their lives until they've reached adulthood, and covering everything from prenatal care to university-level education.
---
This Week on Seminary Dropout…

Bruxy Cavey is the author of the bestselling End of Religion and teaching pastor at The Meeting House, a church for people who aren t into church. The Meeting House is a multisite Anabaptist congregation in Ontario, Canada, where thousands of people connect with God and each other through Sunday services, online interaction, and a widespread house church network. You can learn more about The Meeting House at themeetinghouse.com. Bruxy and his wife, Nina, have three daughters and live in Hamilton, Ontario.
The message of Jesus changed the world…until the world changed the message.

Is a truncated and fragmented version of the good news masquerading as the full, forceful gospel of Jesus? A growing movement of truth-seekers and Jesus-lovers believe so, and they are calling for a return to the first and foundational message of Jesus.

Join Bruxy Cavey, bestselling author and teaching pastor at The Meeting House, in the pages of Reunion: a dynamic investigation of the most earth-shattering, piety-smashing, life-changing news ever. Dig into Scripture with Cavey as he unfolds God's message for the world. Learn why you shouldn't follow the Bible (but why you'll want to read it to learn how to follow Jesus). Scout out the real definitions of sin and salvation, which might surprise you. Discover your true citizenship in the Jesus nation, where you might be ready to die for a cause but never willing to kill for one. Glimpse a God who is love itself and who, like it or not, just can't stop thinking about you.

-From the Publisher
---
If you liked this episode then you might also like…
Seminary Dropout 41: Bruxy Cavey
133: Lisa Sharon Harper on The Very Good Gospel: How Everything Wrong Can Be Made Right
---