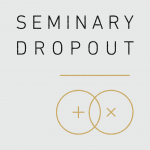 Hey Seminary Dropout listeners this is a very special episode in which I'm previewing the first episode of season 2 of OnRamp, my other podcast.
If you're not familiar, OnRamp is hosted by myself and my friend Kerri Fisher. It's a podcast about issues surrounding race through the lens of Christian spirituality. It's by no mean comprehensive in it's scope and it's not perfect in it's execution. I by no means have these issues figured out. It's just a conversation, and a conversation meant for those who want to understand these issues better, but don't have a good place to start. This is meant to be a jumping on point or, an "on-ramp".
If you like Seminary Dropout then I think you'll love OnRamp. You can help the show launch by 1. Subscribing in iTunes or your podcatcher of choice, and 2. Sharing this on social media. Thanks for listening and I hope that Christ meets you as you listen.